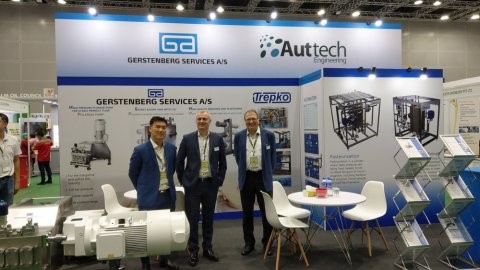 ** Mr Mike Teo (left) is representing Auttech Engineering Pte Ltd at the PIPOC 2019, being partnering with Mr Jesper Anderson (middle) and Mr Michael Steen (right) from Gerstenberg Services A/S.
On 19-21 November 2019, Auttech Engineering participated in the PIPOC 2019 which is the largest palm oil technical and trade congregation. We had collaborated with our partner, Gerstenberg Services during this exhibition for the engineering services. On the hand hand, we have Trepko being our best partner for the packaging segment.
This exhibition offers an excellent strategic platform for interaction on the many aspects related to this industry. We had gained valuable opportunities to further advance ourselves related to the palm oil industry.